Flower of Salt (2014)
5-channel HD video installation, silent, loop
Dimensions variable
Still image from the video
No.1
Public space Ramallah, 12 second

Still image from the video
No.2
Public space Ramallah, 17 second

Still image from the video
No.3
"Al-amari" Refugee Camp, 13 second

Still image from the video
No.3
The Landscape of Jericho, 19 second

Still image from the main video
Jericho, Ramallah and "Al-amari" Refugee Camp, 37 second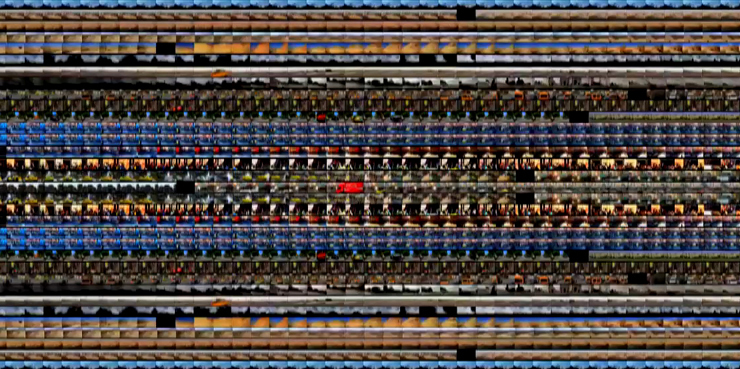 In the work Flower of Salt I used my personal video archive with footage I shot during three years (2011-2014) in three specific
Open Spaces (or Landscapes): Jericho, Ramallah, and "Al-amari" Refugee Camp.
I processed 49 hours of footage from my archive, by reducing the frame size, until the vastness of the landscape became a
texture of color, as the reduction of the frame is mimicking an immense distance between the landscape and the viewer.
And the Open Space becomes a moving pattern, where the memory of the place is reduced to the vibration of its color spectrum.
The work explore the interlacing relationship between the individual and place. By an attempt to examine questions of
layers of identity that exists between the real and the imaginary, between invention and deeply rooted absence of narrative
and how this is situated and articulated in relation to place. Also wanted in this work to trace memory through the place
when multiple layers of time within the time are created.